On this friday after Thanksgiving, I'm honoring someone I'm thankful for. Thankful that she exists and writes and draws and helps others to find their creativity. Thankful for her character Marlys. Thankful for her honesty.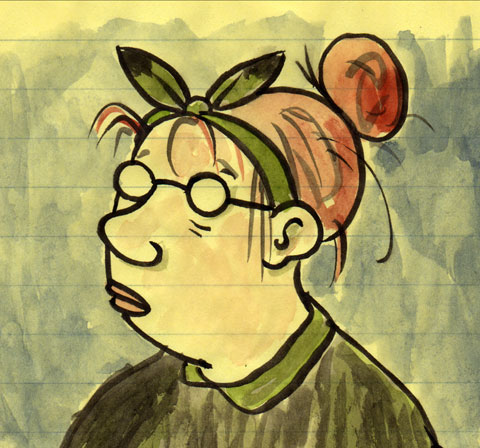 Lynda Barry - Self-Portrait
Dan Kois in the New York Times Magazine (Oct. 27 2011) article, "Lynda Barry Will Make you Believe in Yourself," writes:
"Narrative, Barry believes, is so hard-wired into human beings that creativity can come as naturally to adults as it does to children. They need only to access the deep part of the brain that controls that storytelling instinct. Barry calls that state of mind "the image world" and feels it's as central to a person's well-being as the immune system."
I've been noticing lately how even when I'm not working on Once We Were Bears, I'm creating story. In telling friends about how I'm doing, I'm telling a story. I don't mean by this that I'm making things up; instead I'm arranging the everything-ness of daily life into a narrative. When I'm planning out a course syllabus, I think of that course as a story with a narrative flow. When I imagine how my life might now change as I live out the break up of a 15-year relationship, I'm fashioning stories. Stories, stories, everywhere.
I'm also thankful to my fellow Scribblerati for their story advice and trusting me enough to offer up their own creativity for critique. Cheers.
If you don't know Lynda Barry, read the New York Times article. Read What It Is. Read One! Hundred! Demons! Read Cruddy.
Your life will be better for it.
And may you always have access to your image world.